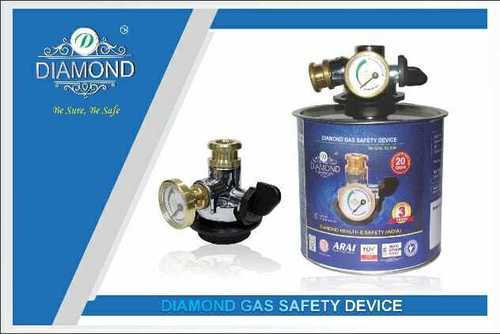 gas safety device horizontal
Product Description
Product Details:Made in India

Minimum Order Quantity
20 PieceGas TypeLPG, CNGMaterialStainless Steel, OM Gas Safety Device, GAS SAFE Gas Safety Device,GAS FUSE Gas Safety Device, DAIMOND GSD, Sohum gas safety device superstockist of pan india. Product description. We are gas safety device manufacturer in india. We started lpg gas seafty device with a vision of being integral part of users' daily lives as every household of this modern age is using lpg gas cylinders to cook food. Lpg cylinders are user friendly but in case of gas leakage it can cause big disasters to our family and property. Other details: sohum gas seafty device is an emergency shut off valve, which cuts off supply of gas, in case of any major hazard caused in domestic system due to either leakage of supply line from cylinder to gas stove or failure of equipment such as low pressure regulator, gas stove etc. Thus avoiding any potential gruesome accident. In case of minor leakage, the product has the facility to do leak check. This avoids wastage of priceless lpg; also potential major leakage is avoided by rectification of the leak. The product guage is a low level indicator of gas, which enables the customers to order the refill in time. Gsd will not shut off if: any minor leakage occurs; sohum gas will indicate the leakage through our testing procedure of the minor leakagethe control of an appliance (gas stove) in unlit condition is left in on positionthere is insufficient flow through the spot where the leakage may be occuringthe supply line is too smallthe gas system mounted is placed near a corrosive area which is subjected to vibration.
We are glad to introduce our product namely om gas safety device (gsd) to our indian market to be integral part of users daily lives. We introduce ourselves as pioneer in supplying safety device since 5 years, we started our journey as sole market player for the safety device and running successfully this year too. We are best at our service and support. >> the device om gas safety device is a australian technology based indian product for domestic lpg cylinder. Documents supporting the product are attached herewith this mail, this totally made in india. We are superstockist of sohum product for all over India.
First time in india we launched 7 different types of device.
(1) vertical(domestic 25"),
(2) horizental(domestic 25"),
(3) vertical 22"(private gas),
(4) vertical( gas gyser),
(5)commercial(25"),
(6)commercial (22"),
(7) gld(natural gas) >>
services you get :- >> 1. Sales support. >> 2. Brochures. >> 3. Promotional advertisements. 4. Leads at dealer location. >> 5. Timely dispatch. We provide 3 years replacement warranty from the date of purchase. We replace the device only on technical defect. Sohum primier gas sefty device rates depands on quantity. . 1000 psc 750/- 500 psc 800/- 100 psc 850/- 50 psc. 910/- included 18% gst
Contact Us
Flat No. 356, Ist Floor, Sumangal House, Somwar Peth, Pune, Maharashtra, 411002, India
Phone :+918045802490